"The movie hadn't even begun and I was enthralled. Hoffman was a showman to boot, leaning into his instrument like a NASCAR champion stuck to the edge of his bucket on some multi-G turn. Then the movie got going. The music remained fascinating in places, with a crazy mix of citations, everything from "Thus Spake Zarathustra" to "The Munsters." Dead serious. It all gelled perfectly with the action." -Joshua Axelrad, Zeek.net
The Golem is an early cinematic masterpiece, a wholly original tale of a monster capable of eliciting sheer terror and incomparable compassion. Based on the Jewish myth of a soulless clay giant created to serve and protect the Jews of 16th century Prague, director Paul Wegener creates a beautiful and poignant version of the myth that also inspired Mary Shelley's chill-inducing Frankenstein. Legends of the Golem have been whispered about for centuries – what became of the monster that only wanted to be human? THE GOLEM is directed in the visual tradition of THE CABINET OF DR. CALIGARI, using expressionist sets -- without a single right angle.

Whether you're familiar with the Golem or not, you've never seen or heard anything like this before: the classic silent German expressionist film set to live music by Daniel Hoffman, and performed by DAVKA, whose original music merges klezmer and Middle Eastern styles with jazz and classical idioms. Daniel's dark, comic score is the perfect dramatic accompaniment to the 1920 film featuring Daniel on violin, Moses Sedler on cello, Kevin Mummey on Middle-Eastern percussion, and Paul Hanson on bassoon.
In contrast to conventional science fiction with its themes of science and technology gone berserk, the Golem, with its Kabalistic and secret oral traditions, is about the formidable responsibility we have for creation. "Golem legends are in no way absurd but rather part of a doctrine that is worthy of attention: that there is in each of us a particle of Divinity." -- Jorge Luis Borges

Daniel was no stranger to the golem when Toronto's Ashkenaz Festival of New Yiddish Culture asked him to compose music for the movie IN 1998. He had written tunes about Rabbi Yehuda Lavy (also known as Rabbi Loew) and his magic clay creation. His ``Golem'' score builds on those themes, as well as Jewish liturgical and Israeli folk music. There are also spaces for improvisation and quotes from disparate sources such as ``Thus Spake Zarathustra'' and ``The Munsters.''

"I'm throwing in a lot of quotes from different sources, a lot of quotes of klezmer tunes, but just little snippets," Hoffman said, "so unless you're a real klezhead, you wouldn't recognize them. I'm definitely having a great time with this score.

While the film offers a fascinating re-creation of Jewish life in medieval Prague, in many ways its view of the past says more about the particular time and place "The Golem" was created. Hoffman's score addresses the various dissonance's contemporary viewers might feel watching the film.

``This is Davka music, which I would describe as a klezmer mutation,'' says Hoffman. ``It works very well for the golem because he's a mutation himself.''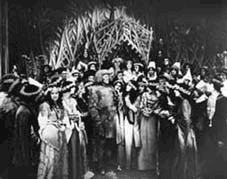 The Golem-
Best of the East Bay 2004:

Best Local Album
"As the band Davka freely admits, descriptions of its music tend to involve a lot of hyphens: "Neo-Jewish-roots-fusion; Middle-Eastern Ashkenazi jazz; avant-retro-hybrid-postmodern-art-musik; fiddler-on-too-much-Turkish-coffee," its Web site gamely suggests. For klezheads and the klezoblivious alike, though, The Golem -- Davka mastermind and Oakland violinist Daniel Hoffman's soundtrack to the famed 1920 silent film -- is a weird and wonderful cultural mishmash. Based on the Jewish myth of an enormous 19th-century clay monster come to life, The Golem 's high-art cinematic expressionism is expertly complemented by this bassoon-violin-cello- doumbek -zarb combo, which veers from merry to menacing, reverent to rambunctious, and dainty to dire almost instantly over the course of 32 bite-size tracks. You don't need the flick playin' in front of you -- or encyclopedic knowledge of music powering it -- to appreciate something so simultaneously foreign-sounding and warmly familiar. It rules."

-East Bay Express